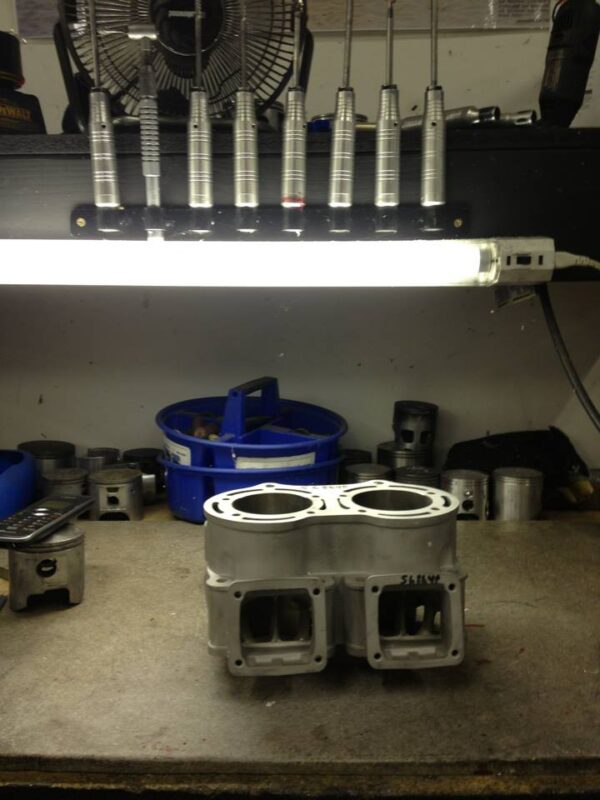 PORTING
All of Redline's porting is race and dyno proven. We have thousands of dyno runs and hours of research into making your Banshee run to its full potential. Anyone can grind on your cylinders but we can show you results.
Play Port :  Re-angle intake, clean trans tunnels, clean and slightly raise trans ports, re-shape and clean exhaust. This great starter port can easily be modded into a 4mm cylinder later. This will usually net around 60-65HP depending on supporting parts. $300.00/pair
Dune Port :  This is by far the most popular port we do. It has a strong pull with no loss in bottom end. We raise the intake roof and lower floor. Cut transfer section of sleeve, major tunnel re-shaping and angling. Raise trans to correct duration for motor setup. Raise and re-shape exhaust port and tunnel. This port can be done to accommodate stock to plus 4mm strokes. This porting will be 65-75HP on stock stroke and 85HP+ with 4mm stroke with correct supporting parts. $500/pair
Drag Port : This is a great cylinder set up. We do not recommend pump gas for this style of port. With the use of race gas or alky you can keep the torque curve stronger. Intake is re-shaped and re-angled. Trans area sleeve aggressively re-cut. Trans tunnels are ground to re-angle fuel delivery and trans window is cut to specific shape and angles. Exhaust port gets raised and re-shaped along with opening up the exhaust port tunnel. This cylinder design has been tested at 100HP on stock strokes and up to 117HP on a 7mm stroke on alky. There is no welding on these cylinders to keep the sleeper look. $800.00/pair
In-house cylinder boring. $75.00/cylinder
If we port your stock, Serval or Cub cylinders we will port match the cases at no additional charge.
Redline Racing can build a motor for any type of riding style. Please call today to discuss your options!